Programs for Children and Youth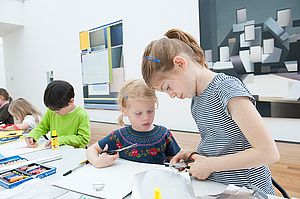 Free entrance for children and youth up to 18 years.
 
Each of our younger visitors receives a cost-free kimuri art puzzle to entertain and guide them around the exhibition by means of a series of quiz questions and riddles.
 
Not Just "dot, dot, comma, dash"!
A journey into the land of lines with drawer Annie Krüger: After an exciting tour of the exhibition, children aged 8 and over will join together in the open to create a large "drawing" using found objects. Finally, they will make their own lines dance in a fanfold presentation. Bring things to eat and weatherproof clothing!
Thursday, 14 April, 2.30-5.30 p.m.
€ 6 (including material)
Reservations must be made by phoning +49(0)7157.535 11-40
Creativity Workshop for kids
A 1,5-hour program allows children to explore the themes and motifs of the exhibition in a playful, imaginative way. After a special children's tour of the Museum, it is the little ones' turn to be creative.
Wednesday, 5 January, 2 March, 20 April, 2.00 p.m.
€ 6 (including material)
Reservations must be made by phoning +49(0)7157.535 11-40