Programs for Children and Youth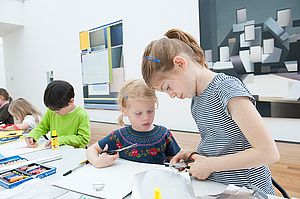 Free entrance for children and youth
up to 18 years.
 
Each of our younger visitors receives a cost-free kimuri art puzzle to entertain and guide them around the exhibition by means of a series of quiz questions and riddles.
 
Magical Tales for Young and Old
Storyteller Petra Horter enchants with tales from Turkey and the Orient. For children aged 5 and over, and adults
Sunday, 4 December, 3.30-4.30 p.m.
You only pay the admission to the museum.
Booking is recommended +49(0)7157.53511-40.
Creativity Workshop for kids
A 1,5-hour program allows children to explore the themes and motifs of the exhibition in a playful, imaginative way. After a special children's tour of the Museum, it is the little ones' turn to be creative.

Thursday, 5 January, 23 February, 13 April, 2-3.30 p.m.
€ 6 (including material)
Reservations must be made by phoning +49(0)7157.535 11-40
Learning to see and create by playing with the Viseur
The art educational game "Le Viseur" helps children perceive basic colours and to recognise simple geometric shapes. Inspired by works in the exhibiton, children from the age of 7 create abstract pictures using the Viseur.
€ 55, up to 12 children per group, duration: ca. 60 minutes
Reservations must be made by phoning +49(0)7157.535 11-40