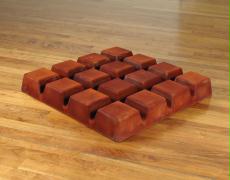 Thomas Rentmeister
Eisenschokolade, 2012
Iron
100 x 100 x 13,8 cm
© VG Bild-Kunst, Bonn 2020
Thomas Rentmeister has taken this exhibition on chocolate in art as the opportunity to realise a long-cherished idea of transposing a Ritter Sport bar into grand dimensions. For this he has not actually used chocolate, as one might expect from his works with nougat cream and sugar, but the method of iron casting. And truly, his work entitled Eisenschokolade [Iron Chocolate] reveals a new side to the artist's oeuvre, both in the choice of material and in its mimetic appearance. But the work is nevertheless based on a rigorous sculptural practice that countermands and reformulates the principles of Minimal Art. Because while Donald Judd's "specific objects" aim to eliminate every trace of illusion and blend the represented and the representation into a hermetic whole, it is precisely this open interplay between the facticity of a material and the spheres of association beyond the pure form that distinguishes Rentmeister's work. For which reason it may be seen as a humorous about-turn vis-à-vis the self-referentiality of Minimal Art when the aesthetic of elementary geometry, this addition of ever-the-same polyhedra, is based on a consumer article like a chocolate bar that is designed to awaken desire, and whose form is the outcome of functional determinants and the economics of its manufacture. But one would crack one's teeth on the Eisenschokolade; it does not prompt any immediate feelings of desire. Because the recourse to the material metal, so widespread in the construction industry, implies that Rentmeister also possesses the necessary knowledge about its chemical and physical properties: so that work embodies not only a rough matt surface aesthetic, but also an understanding of the process of oxidation. And however hard, block-like and weighty the work may be as it occupies its place on the floor, one might also be prompted to think of a landscape of pyramids.

1964 born in Reken / Westphalia
lives and works in Berlin