The Squaring of the Square
17 May to 27 September 2009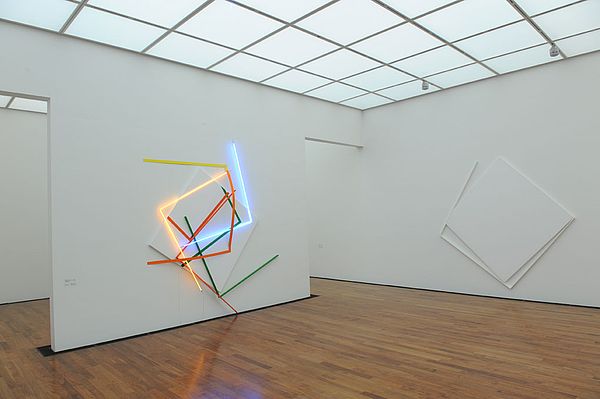 On 16 May 2009 Museum Ritter will open a major solo exhibition of work by François Morellet and pay tribute to one of the foremost artists in France today. Right until 27 September 2009, the entire building will present a broad cross-section of his wide-ranging œuvre. Apart from geometrical paintings, the exhibition will also fea-ture works with lattices and adhesive tape, as well as light installations using coloured neon tubes. The choice of works was made in close consultation with the artist and grants the viewer a very personal look at over 60 years of work by one of the wittiest of artist provocateurs.

The title of the exhibition "Squaring of the Square" is taken from one of the artist's works in neon. "What is this title about? Nothing, of course," says François Morellet, "apart from my twin obsession with squares and absurdities... It seems to me that humour, irony, derision and frivolity are the necessary seasoning to makes squares, systems and all the rest of it digestible." This outlook has enabled the artist time and again to astonish the viewer by the simplest of means and to create highly effective and wittily ironic works from geometrical forms.




With 50 works from all major periods of his career, the exhibition provides an excellent overview of Morellet's extensive output. In addition, the exhibition is accompanied by a bright aray of events. Free guided tours on various aspects of his work will be conducted at 3 p.m. on every Saturday, Sunday and public holiday. The price of admission also includes a free audio-guide in either German or English.
The exhibition will be accompanied by a catalogue (96 pages) in three languages, published by Verlag Das Wunderhorn, price € 21.80.
Image above:
François Morellet, 10 lignes au hasard hybrides jaune et blanc, 2008
© VG Bild-Kunst, Bonn 2020