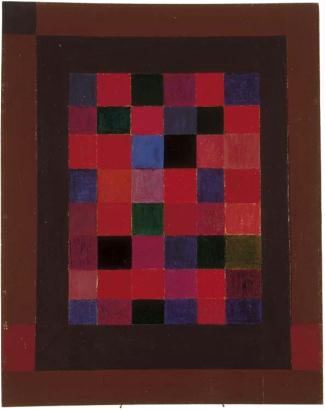 Johannes Itten
Blazing Red, 1955
Oil on fiberboard
80 x 60 cm
© VG Bild-Kunst, Bonn 2020

Johannes Itten was especially known for his teaching, especially at the Bauhaus, and his theoretical writings. The intensive exploration of color effects and rules — he developed the color wheel, for example - was already the central focus of his work during his time at the Bauhaus. Due to his diverse activities, the artist had little time for his own design work. Itten found the time for intense involvement in his own painting only after the mid-1950s. The painting Leuchtendes Rot (Blazing Red) came from this period. In its design, Itten referred to the compositional principles of his vertical-format, geometric work from the years 1915-1916.
Characteristic of his later work is, on the one hand, a clear geometric form language. The expressive works that occurred at the same time show, however, that Itten was not concerned with rational design principles. The polarities obvious in his artistic expression here already began in his early work. His strong interest in Eastern philosophy and efforts to recognize an inner, cosmic order was very decisive for his work, and his attitude toward life.


1888 born in Südern-Linden/Switzerland  
1967 died in Zürich