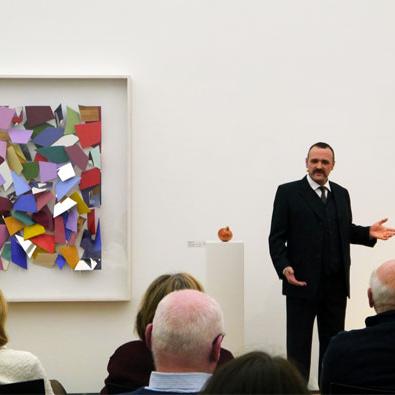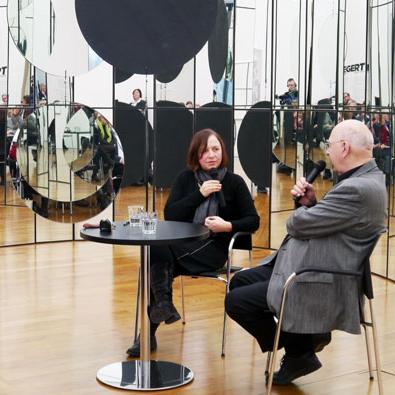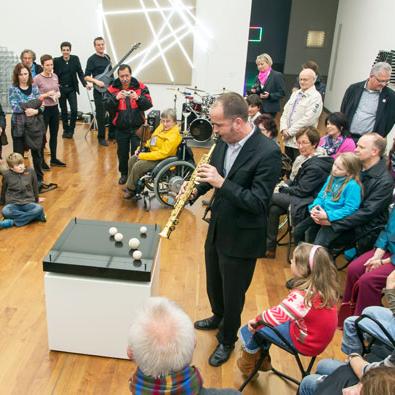 Musical tour of the exhibition with the band The Jazzmates, with elucidations by art historian Christine Klenk. You only pay the admission to the museum.

Sunday, 12 June, 11 September, 6.00-7.00 p.m.
€ 10 (including admission to the museum)
Booking is recommended +49(0)7157.53511-40.
 
Summer Concert: Music in a Square
Musicians from the Stuttgart Chamber Orchestra together with the Young String Orchestra Weil im Schönbuch will perform works by Antonio Vivaldi and Sulkhan Tsintsadze in the museum passage , peppered with improvisations relating to the art on display. The prelude will be a sound piece developed by children.

Direction: Susanne von Gutzeit and Erich Scheungraber

Saturday, 25 June, 7.00-7.45 p.m.

€ 10 (with entrance to the museum)
Booking is recommended: +49(0)7157.53511-40
Matineée with Peter Weber
Museum Ritter invites you to an artist talk with Peter Weber, followed by drinks.
You only pay the admission to the museum.
 
Sunday, 17 July, 11.30 a.m.

Booking is recommended +49(0)7157.53511-40.
 
Openair-Cinema in the arcade of the museum
Summerly Openair-Cinema in cooperation with "Kino vor Ort" and "Kinomobil e.V."

Saturday, 6 August, 9.00 p.m.: Das schwarze Quadrat (2020)
Saturday, 3 September, 9.00 p.m.: Van Gogh. An der Schweller zur Ewigkeit (2018)
€ 10 (Tickets only on the day one hour prior to the beginning of the movie including admission to the actual exhibition)
Combine your visit to Museum Ritter with exquisite culinary delights at the historical Gasthof Krone at the foot of the Schlossberg, close to the Museum. The cultural prelude consists of a one-hour tour of the current exhibitions at Museum Ritter, in which you will be presented with the leading works on display. And afterwards your hosts Erik Metzger and Matthias Gugeler will welcome you inside their cosy restaurant or to the romantic summer terrace at Gasthof Krone, where they will treat you with special delicacies from their kitchen.

Sunday, 30 October, 27 November, 18 December 2022, 29 January, 26 February, 26 March, 21 May, 25 June, 30 July, 27 August, 29 October, 26 November, 17 December 2023

The exhibition tour begins at 11.30 a.m. in the foyer at Museum Ritter, the culinary delights at 1 p.m. at Gasthof Krone.
€ 88 (84 reduced)
Reservations must be made: Gasthof Krone, Tel. +49 07157. 40 88 49, www.krone-waldenbuch.de