Horst Hamann Photographs about Museum Ritter

10 May to 20 September 2015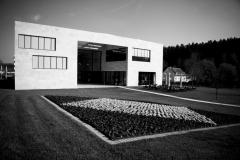 "I have always felt on my visits that Museum Ritter is above all a place of encounter, and that precisely is what I want to convey in my photos."
(Horst Hamann, 2015)
To mark the tenth anniversary of Museum Ritter, the renowned photographer Horst Hamann has created an exceptional photo book in homage to the museum and its artists. For over a year he has been a regular visitor here in Waldenbuch, where he has captured the architecture and the special atmosphere in the Museum with his camera. The result of these shots is now a thick volume of photographs. And once again Horst Hamann has decided with these photographs to use black and white, as he generally prefers. Dispensing with colour enables him to produce clear, reduced images which direct the viewer's gaze to the essentials and in that way open up new levels of perception.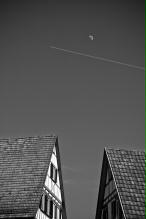 The exhibition presents a concentrated selection of around 35 black and white photographs from the Museum Ritter series. They show the museum building and architectural details, along with scenes from the daily work at the museum and atmospheric impressions of Waldenbuch. Not to forget the collector, the museum architect, and visitors to the exhibitions, who are all to be seen in the exposures
Part of this photo-exhibition is dedicated to the artists who have had their own solo shows over the past ten years in Museum Ritter. Horst Hamann has met them all, often visiting them at their homes, in order to produce a suite of very intimate and distinctive portraits. Central to each of these unusual studies is the eye of the photographer trained on the individual artistic personality.
Horst Hamann's extensive volume encompassing over 100 black and white exposures of and about Museum Ritter is available from the Museum Shop.
The Photographer Horst Hamann
Horst Hamann has held a camera ever since he was eleven. In 1989 the born and bred Mannheimer moved to New York. After spending almost twenty-five years on the east coast of north America, he returned a few years ago to Germany.
In the 1990s Horst Hamann rose to international fame with his striking black and white vertical photographs of New York skyscrapers and buildings. Apart from architectural photography, the main thrust of his work is directed to portraiture. Horst Hamann has put his name to over twenty-five books and volumes of his photograph works.
Already the recipient of many awards, Horst Hamman has most recently been awarded the silver Deutsche Fotobuchpreis 2015 for his book Absolute New York.