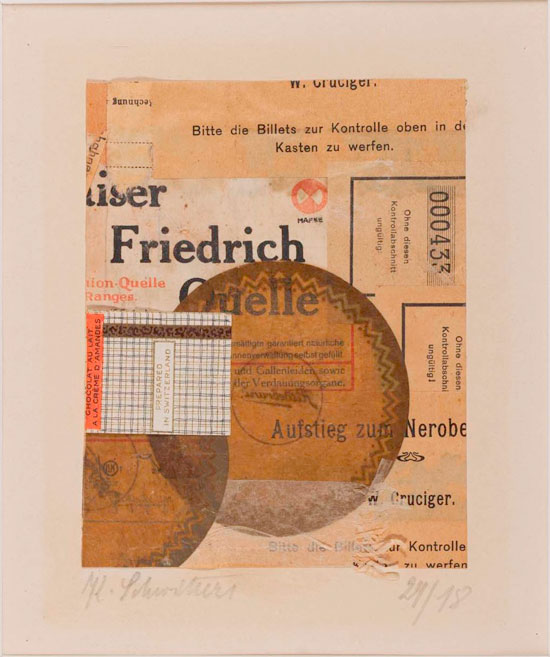 Kurt Schwitters
Kaiser-Friedrich-Quelle (Merzzeichnung 29/18), 1929
Collage, paper on paper
11,8 x 9,5 cm (picture)
© VG Bild-Kunst, Bonn 2020

Unlike artists such as Pablo Picasso or Hans Arp, who only occupied themselves for a short while with collages, Kurt Schwitters devoted himself to this technique his whole life long. It was the basis of his creative output, for he constantly employed the collage to transform garbage and objets trouvés into any number of widely varying artworks. By this means he expanded the concept of composition, which for him did not merely include colour, line, and form, but also the tactile aspect of the materials. With this idea of "Merz" art – the term was taken from the name of the Com[merz]bank which he found in an ad he used for an assemblage – from 1919 on he developed an art current in the provincial capital of Hanover that ran parallel to the Dada movement in Berlin and Zurich, which likewise questioned the way art had regarded up till then. Initially his Merz concept was applied solely to his artistic output, but soon he was to expand the idea – which essentially was based on the use of old materials and an openness in the arrangement – to include his wide range of activities as a sculptor, draughtsman, architect and typographer.


1887 born in Hannover  
1948 died in Kendal / England