Daniel Hausig. Dynamic Light
13 October 2019 until 20 September 2020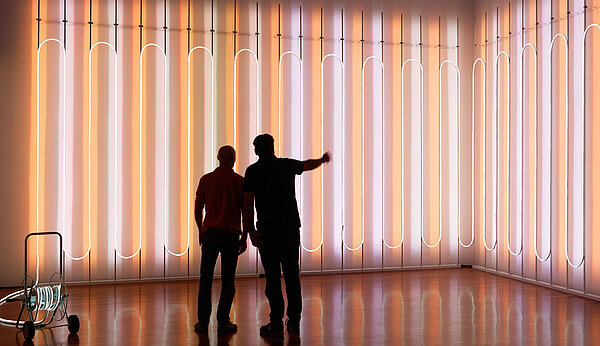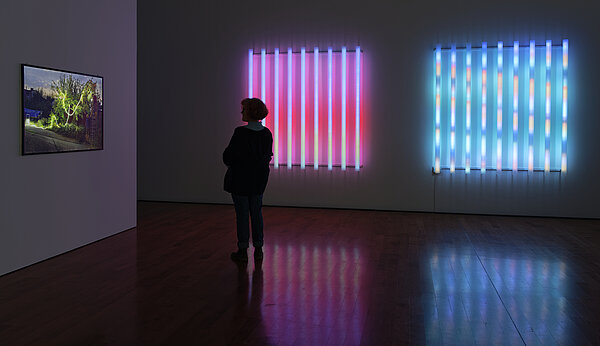 This exhibition features recent works by Daniel Hausig, who is a both important and innovative representative of contemporary Light Art. Ever since his student days in Hamburg he has devoted himself to light as a (painting) material and artistic medium. His minimalist coloured light objects always feature state of the art technology, such as self-made electroluminescent silkscreen prints and digital LEDs with time-based management systems. Moreover, the light in his objects and sculptures is highly dynamic, varying constantly according to the artist's directions, which regulate the colour progressions by means of programmed loops.

Daniel Hausig's light works immerse the venues where they are shown in changing chromatic moods. His light and sound installation Pool, for instance, derives its poetic, spatial effect from a slow, meditative play of colours that summons up associations with wave movement. The multi-part work Wetterleuchten (Sheet Lightning) is determined on the other hand by rhythmic motions in coloured light, alternating between calm flows and intermittent flares. By contrast, the large wall installation Seitenlicht Sidelight) radiates a puristic white, at least to the front, for it casts subtly shimmering coloured shadows onto the museum wall from its rear face.

Light is likewise the central concern in Daniel Hausig's photographic work, which is also included in the exhibition. The exposures are often taken on his travels or during nocturnal forays: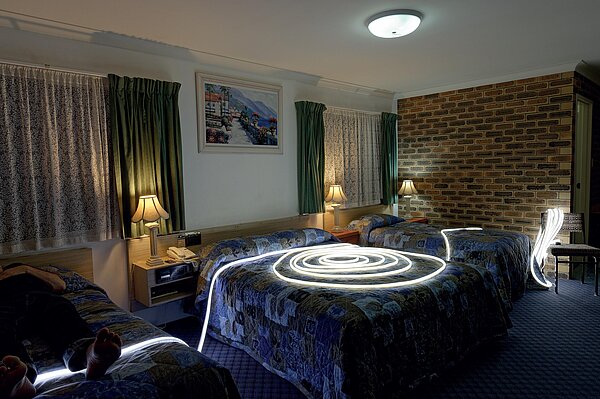 Sometimes they depict his hotel room, sometimes lost places, such as condemned buildings or industrial wastelands; yet other photos have echoes though of lost paradises. A striking feature in these photographs is a surreal looking strip of light. It is in fact a white rope light, which Daniel Hausig deliberately introduces into his scenes. Not only does it illuminate the setting, it also stands for the change in our lighting that can be observed the world over, which has sneaked relentlessly into all areas of life through the massive employment of LEDs.
Daniel Hausig (*1959 in Kreuzlingen, CH) is since 1999 Professor of Light and Intermedia at the Hochschule der Bildenden Künste Saar. He lives and works in Hamburg and Saarbrücken.

The exhibition has been created in collaboration with the Kunstmuseum Celle, where it was exhibited in summer 2019 in a larger format.


Pictures:
Seitenlicht VI, 2017 (Museum Ritter, 2020, Detail), photo: Daniel Hausig
Wetterleuchten, 2019 (Museum Ritter, 2020), photo: Daniel Hausig
Unterwegssein, 2015
© VG Bild-Kunst, Bonn 2020