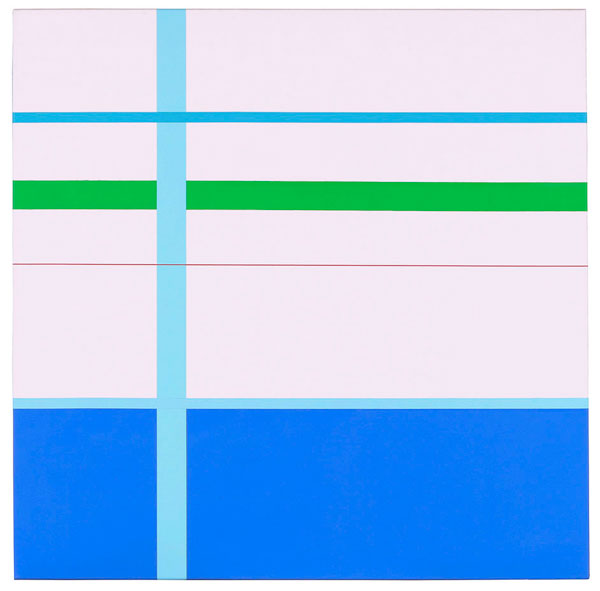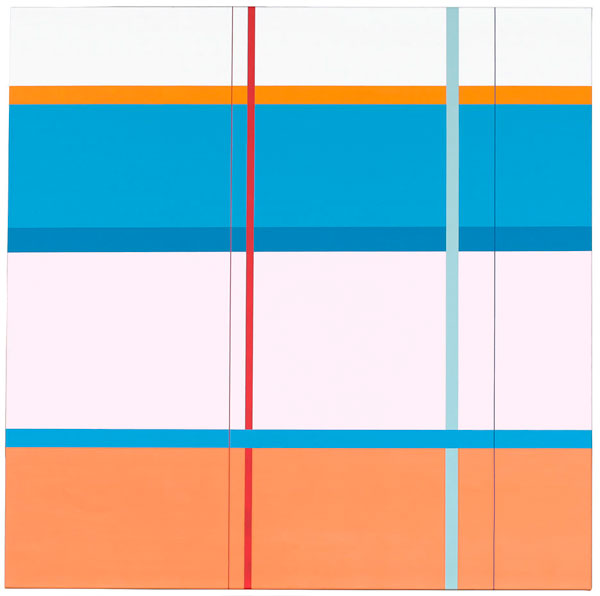 Miriam Prantl
manifolds 8c, 2008
Acrylic and fabric tape on canvas
100 x 100 cm
manifolds 11c, 2009
Acrylic and fabric tape on canvas
120 x 120 cm
© Artist
Photos: Gerhard Sauer

Space, light and colour are the basic components in the works of Miriam Prantl, which she employs for light installations, architectural interventions, sculptures, wall reliefs and painted pictures. Although quite at home in a number of artistic genres, in her most recent works the Austrian artist has returned to painting, the medium with which she made her first excursions into the visual arts in the 1980s. Prior to that she had trained as a classical dancer, a means of physical expression which allows space to be experienced through the use of one's own body. Sounding out space is an element that the artist conveys to the beholder in all of her works, from wall relief to room installation.

While in the 1990s Miriam Prantl actually created her wall reliefs by superimposing wooden surfaces on top of one another so that they created their own space, in her "manifolds" series she has arrived at a far subtler effect through the interplay of colour, line and surface, which creates an illusion of space on the canvas. But these painterly works are also marked by the finest soupcon of relief because the linear elements have been realized using adhesive or cloth tape. The spatial illusion that opens up before the viewer's eyes in "manifolds 11c" is produced by a system of coordinates made up of rectangular lines and stripes; these produce a net whose openings grant a glimpse of virtually boundless or limited spaces whose chromatics determine the apparent extension of the seemingly spatial surfaces.
 
Just as the vibrations of the individual notes played on an instrument ultimately join together in a harmonious tune, Miriam Prantl seeks to arrive at an overall harmony through the vibrations of the colours – as determined here for instance by the complementary contrast produced by shades of blue and orange. The radiant effect created by this pair of colours is heightened by subtly shaded white areas. Moreover the juxtaposition of fine colour gradations underlines the relative effect of colour in relation to its surroundings. With its constructed, relief-like character, this work by Miriam Prantl points to other forms of the visual arts such as architecture and sculpture. By provoking not only the power of vision but also other senses – through the sound of notes, the act of feeling space – she gives an intimation of artistic experiences that go beyond painting, sculpture and architecture.
Miriam Prantl
1965 born in Bregenz (AT)
Lives and works in Dornbirn (AT)