Order and Disorder
26 October 2008 to 19 April 2009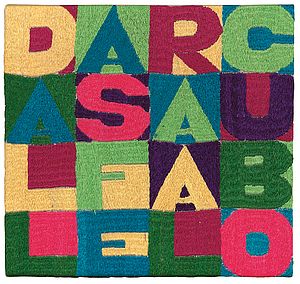 "I have often worked with the concepts of order and disorder, either by confounding order, or by presenting what is clearly disorder as the embodiment of an intellectual order… It is simply a question of knowing the rules of the game: if you are not familiar with them you will never be able to see the order that informs things. When for instance you look up at the sky and do not know the order of the stars, you will see nothing but chaos, whereas an astronomer sees a clear order to them"

Order and disorder, system and chaos – Alighiero Boetti (1940-94) not only thought in these categories, his entire artistic output revolved round these two poles. Like scarcely another artist he questioned apparent opposites and showed that it is all a question of how one regards them. Time and again he gave new artistic expression to this dualistic world view and in this way created his own cosmos in which opposites effortlessly interact.
In particular Boetti's embroidered pictures draw their singular beauty from the synthesis of order and disorder. It was through his arazzi, as he called them, that the artist rose to international fame. In these works he fashioned words and texts into squares that form brightly coloured embroidered pictures. Only on second sight do the individual letters stand out from the splendour of their colours to reveal themselves as readable texts. A large number of small arazzi are on show at the exhibition, including Boetti's masterpiece made up of 199 pieces, Order and Disorder (1985/96).
Alighiero Boetti's penchant for idiosyncratic orderings and new arrangements did not even stop at his own work: in his wide-ranging folio work Insicuro noncurante [= uncertain – carefree] he looks back on his artistic cosmos from the years 1966-1975. The 81 leafs contained in the portfolio form the second major focus of this exhibition. They include formal geometrical studies and sketches for variations on the artist's major works, along with photographs, photomontages, collages, and reprints of earlier graphics. Every single sheet is an artwork in its own right, while together they grant a unique insight into the artistic universe and life of an extremely diverse and fantastically obsessive artist.
Pictures from left to right:
Alighiero Boetti: Order and Disorder, 1985-86 (Ausschnitt) © VG Bild-Kunst, Bonn 2020
Alighiero Boetti: Dal la sfera al cubo, 1987 © VG Bild-Kunst, Bonn 2020
Alighiero Boetti: Insicuro noncurante, 1972-75, Nr. 9 (Gemelli) und Nr.1 (Contatore) und Nr. 57 (Colpo di stato) © VG Bild-Kunst, Bonn 2020