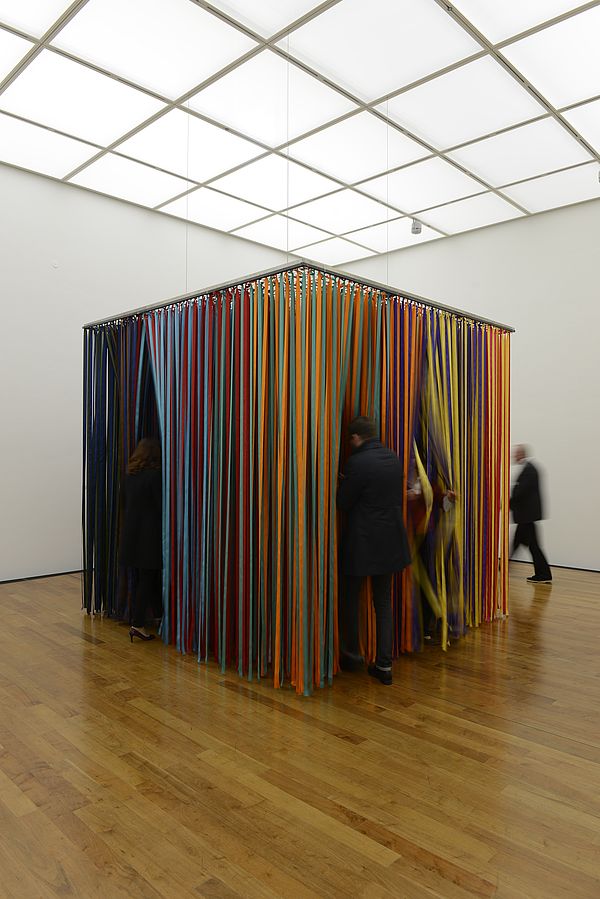 Jacob Dahlgren
The Wonderful World of Abstraction, Constructivist Version, 2015
Silk satin ribbons, metal construction
300 x 300 x 280 cm
© VG Bild-Kunst, Bonn 2022
Photo: Franz Wamhof
Jacob Dahlgren began his career doing abstract-minimalist colour field paintings, and even today he still sees himself chiefly as a painter, although he has long since put his brushes and canvases aside and for many years worked with everyday mass produced items. These he finds in hardware centres, department stores and 1 euro shops: brightly coloured plastic coat hangers, folding rulers, cheap dart boards made of paper, pencils or yogurt cups – all this is misappropriated by him and transposed with an ironic wink to an art context. In this he regularly combines the idea of the readymade with a serial approach, so as to create works in which the principle of multiple repetition of the same effects a transformation that produces something new. By mounting up the initial material and employing a systematic design, he arrives at constructive-geometrical works with often installational, site-specific components, in which everyday life and art merge.
For The Wonderful World of Abstraction Jacob Dahlgren has used several thousand silk ribbons, which unite to produce an almost cube-like volume. A host of helpers worked for weeks attaching the ribbons according to a colour scheme set down by the artist to the three by three metre metal grid. At first sight this block of satin ribbons might look like a gaily coloured reinterpretation of Jesús Rafael Soto's Pénétrables, but in fact Dahlgren took his inspiration from the paintings by the British Op Art artist Bridget Riley, whose flickering effect he decided to extend into the third dimension. His aim was to create a work that not only stimulates the faculty of vision, but that can be experienced with the entire body. Consequently this walk-in "cube" of coloured ribbons has highly physical and even playful components, because the visitor can quite literally immerse herself in it, can feel it, lose herself inside and become part as it were of a "wonderful world of abstraction": here the perception of art becomes a physical experience.
The Constructivist Version of this piece is incidentally one of three variants that currently exist. Predecessor to all three was a small, temporary pilot version that Dahlgren already developed in 2004 while on a work stipend in Colombo, Sri Lanka, where he came across a shop that sold thousands upon thousands of satin ribbons in every imaginable hue.
1970 born in Stockholm
Lives and works in Stockholm