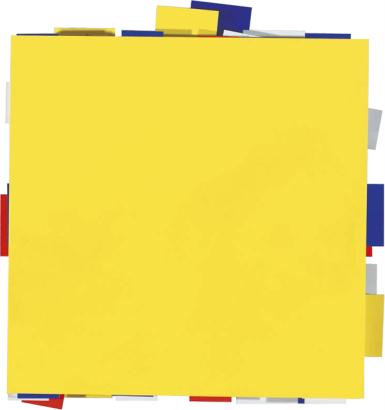 Imi Knoebel
Odyshape III yellow, 1994
Acrylic on aluminum 80,5 x 75 x 15,7 cm
© VG Bild-Kunst, Bonn 2020

In the 1970s, Imi Knoebel concerned himself with the fundamental problem in painting in series of white images. From this purist form language, he developed works with overlapping rectangles in bright colors with, in part, clearly gestural color application. Many of these monochromatic paintings were made for a specific spatial or light situation. Odyshape III yellow is not a two-dimensional painting, but rather an installation of a quadratic surface behind which flatly pressed aluminum pieces seem to protrude. The color palette is reminiscent of Mondrian. With only partially visible elements, this work dances around the topic of the hidden, an issue that Knoebel also addressed in other works. The intensive presence of the yellow square is contrasted with the invisible layers of the images beneath.
But while in 250,000 drawings, for example, the individual pages' similarity strongly limits the viewer's curiosity in each of them, the hidden aluminum elements attract the joy of discovery. The layering principle calls the viewer to action: He or she is forced to look at it from all sides in order to comprehend the work as fully as possible. Here, Knoebel's desired interaction between space, color and image is expanded to a relationship with the viewer.


1940 born in Dessau  
lives and works in Dusseldorf