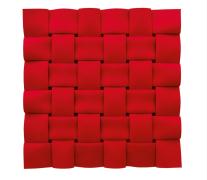 Peter Weber
Vernetzung F6RT, 2008
Red felt
88 x 87 cm
©VG Bild-Kunst, Bonn 2020
The talk of an "embodied surface" sounds like a contradiction in terms. And yet: when one listens to Peter Weber talking about his artistic work in his very considered and precise way, the concept keeps cropping up. It is as if he wants to dupe us. Which is precisely what he does. Far less so when he talks than through the artistic work itself. And this also occurs in the piece "Vernetzung F6RT" [Intermeshing F6RT] from 2008, a work done in red felt. On first sight the set-up seems very clear: six horizontal and six vertical felt strips are fitted together in an orthogonal mesh that creates as a whole a square. The felt billows out so that the edges become rounded and the strips are not totally flush with one another, but disclose rather a series of small openings which for their part are also square. The resulting "picture" is like a relief, wonderful to look at and almost begging to be touched.
However clear and stringent the rhythm and composition of the work may be, only on second glance does it reveal how it came about. It becomes clear from the edges that the overall weave is not made of various individual strips of felt, but from one single length that has not been cut at any point. The strips and the overlaps that we think we see are produced solely by folding and torsion. Which means the weave is only a semblance of weaving.
   
1944 born in Kollmar
lives and works in Munich