Ulrich Wagner - Urban Systems
From 6 May to 16 September 2018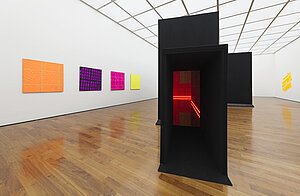 Geometrical shapes and graphic elements, serial clusters and rhythmically arranged configurations are the distinguishing features of Ulrich Wagner's art. His pictures, wall objects and rooms, whose complex weave looks as though it has been spun from the autonomous forms that make up the constructivist vocabulary, are in fact based on structures from the visible world of buildings: as point of departure for his works the artist takes the layouts of plan cities such as Mannheim, New York and Mexico City, as well as maps of sites from the Nazi past. Wagner abstracts these original sources and fragments them into amenable pieces that can be combined and layered and ultimately embedded in an aesthetic system. The degree of defamiliarisation involved may extend to the elements becoming completely unrecognisable; yet once the source of the citation in a picture has been identified, the work can no longer be read without its references to a specific architectural, historical and socio-political context.

For the exhibition Urban Systems, Ulrich Wagner has devised a monumental, hermetically sealed light room that runs through the ground floor of the museum like a bolt of black lightning. On entering this portal, one is instantly drawn into a seemingly never-ending stream of rhythmically arranged grid patterns, rectangles and squares. A tracery of coloured networks opens up to the viewer and creates a space made of emblematic forms that produce a magically glowing, virtual cosmos. Wagner's new light room InBetween – ZwischenRaum is augmented by a selection of no-less fascinating works on handmade paper and acrylic glass which Wagner has made over the last twelve years. They testify to his creative diversity and the mastery that he has acquired over the years with his chosen materials.




1959 Born in Cologne
1981–87 Studied in the department for art and design, Fachhochschule Köln, Cologne
1990 Prize, Verband Deutscher Papierfabriken e. V., Bonn
1995 Tutor, National College of Art and Design, Bergen (NO)
2008 Leo Breuer Prize, Landschaftsverband Rheinland, Bonn
2009 Critics' Prize for "Visual Art", Verband der deutschen Kritiker e. V., Berlin
The artist lives and works in Oberlascheid and Cologne.