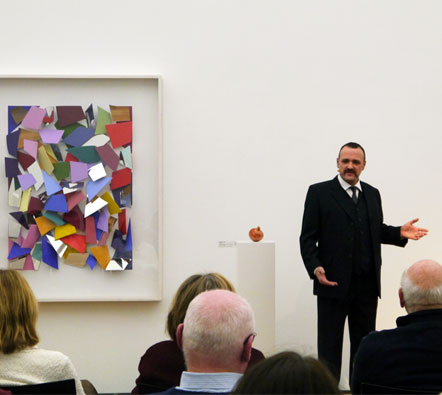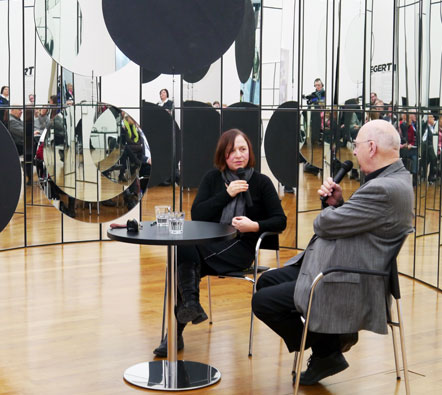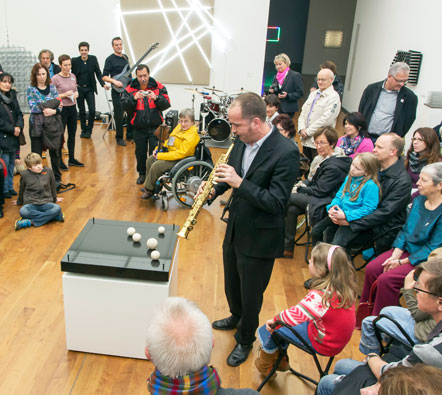 Artist`s talk with Ulrich Wagner
Sunday 17 June, 3:30 p.m.


Curator`s tour with Hsiaosung Kok
Sunday, 27. May, 3.30 p.m.


Art and Music
"The Jazzmates" Horst Götz, Lukas Pfeil and Harald Wester together with art historian Christine Klenk have devised a tour of the exhibition with specially composed music for double bass, saxophone and drums.
Sunday, 3 June, 3:30 p.m.


Open Air Cinema in the Museum Passage
Summer Night's Cinema in the Museum passage, in cooperation with "Kino vor Ort"
Ticket: € 10 (incl. admission to the Museum, on sale only at the box office)
Saturday, 4 August: The Square, film starts 9.30 p.m.
Friday, 14 September: Beuys, film starts 9 p.m.



Matinée Concert with Alexandra Lehmler and Band
Alexandra Lehmler, saxophonist and winner of the Jazz Prize Baden-Württemberg 2014, together with Franck Tortiller, Patrice Héral and Matthias Debus, presents works from her CD Sans Mots.
Sunday, 19 August, 11.30 a.m.
Ticket: € 20 (incl. admission to the Museum)



Reading with Adrienne Braun
The well-known Stuttgart journalist and writer will read from her book Künstlerin, Rebellin, Pionierin – 20 außergewöhnliche Frauen aus Baden-Württemberg.
The reading is part of the Baden-Württemberg Summer of Literature, which is being mounted under the banner of "Women in Literature".
Thursday, 5 July, 6.30 p.m.
Ticket: € 6 (incl. prior admission to the Museum)
Number of participants is limited
Please book in advance: Tel. +49(0)7157. 53511-40



Culture Gourmet
Combine your visit to Museum Ritter with exquisite culinary delights at the historical Gasthof Krone at the foot of the Schlossberg, close to the Museum. The cultural prelude consists of a one-hour tour of the current exhibition at Museum Ritter, in which you will be presented with the leading works on display. And afterwards your hosts Erik Metzger and Matthias Gugeler will welcome you inside their cosy restaurant or to the romantic summer terrace at Gasthof Krone, where they will treat you with special delicacies from their kitchen.


Dates in 2018:
5/27, 6/24, 7/29, 8/12, 9/9, 10/28, 11/25, 12/16

The exhibition tour begins at 11.30 a.m. in the foyer at Museum Ritter. The culinary delights at 1 p.m. at Gasthof Krone.

Culture-Gourmet adults: 72 euro, (68 euro reduced)
Reservations must be made by phone:
Gasthof Krone, Tel. +49 07157. 40 88 49
www.krone-waldenbuch.de