Marli Hoppe-Ritter - founder of the Museum Ritter and Art Collector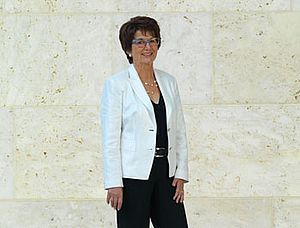 A mixture of fascination and passion has driven me for nearly thirty years to build up a collection based on the topic of art and the square therein. Bit by bit I have brought together around 1200 works by major artists in the field of twentieth and twenty-first century geometrical abstraction. And over the years, themed collecting has proved to be far more exciting than I would ever have expected at first. Whether serious or playful, mathematic or spiritual, analytic or even humorous – the possibilities ways in which artists can occupy themselves with the square are almost inexhaustible.
When Museum Ritter opened its doors in September 2005 I had no inkling that the exhibitions and events programme would meet with such a response. I am delighted that in the meantime, the Museum has become a fixed part of Baden-Württemberg's cultural landscape and developed into a place where art is lively and approachable.
I warmly invite you to experience this unique combination of art, architecture, chocolate and nature in the town of Waldenbuch, and wish you every joy and pleasure in your encounter with art.