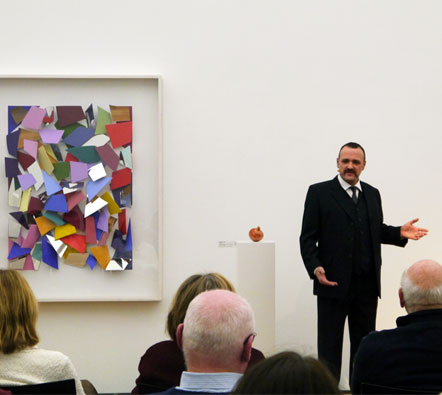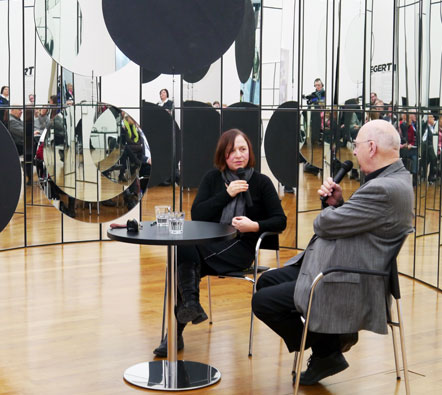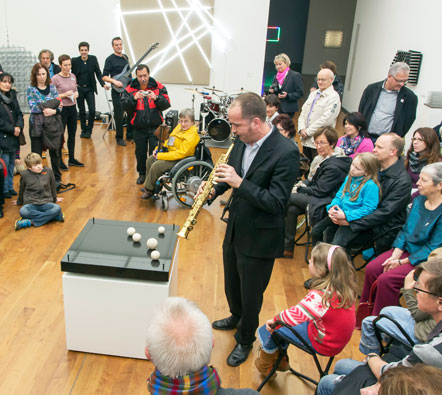 With Dr Barbara Willert and Hsiaosung Kok
Thursday, 5 March, 6 p.m.
Talk "Lichtkunst heute" (Light Art Today, in German)
The talk focuses on approaches in Light Art with reference to Daniel Hausig`s work.
With Dr Julia Otto, Kunstmuseum Celle
Sunday, 16 February, 3.30 p.m.
Artist István Haász in Conversation cancelled
Sunday, 29 March, 3.30 p.m.
Hungarian Folk Tales for Young and Old
Story teller Petra Horter whisks the listeners away to wintry Hungary and the Balkans.
For childres aged 5 and over, and grown-ups
Sunday, 2 February, 3.30 p.m.
Musical tour of the exhibition with the band The Jazzmates, with elucidations
by art historian Christine Klenk.
Sunday, 9 February, 4.30 p.m.
We show you the highlights of the exhibitions.
You only pay the admission to the museum.
As soon as possible every Sunday, 3.30 p.m.
Combine your visit to Museum Ritter with exquisite culinary delights at the historical Gasthof Krone at the foot of the Schlossberg, close to the Museum. The cultural prelude consists of a one-hour tour of the current exhibition at Museum Ritter, in which you will be presented with the leading works on display. And afterwards your hosts Erik Metzger and Matthias Gugeler will welcome you inside their cosy restaurant or to the romantic summer terrace at Gasthof Krone, where they will treat you with special delicacies from their kitchen.

Available dates 2020:
Sunday, 2/23, 3/29 cancelled, 4/5 cancelled, 5/24 cancelled, 6/28 cancelled, 7/26, 8/9, 9/20, 10/25, 11/29, 12/20

The exhibition tour begins at 11.30 a.m. in the foyer at Museum Ritter. The culinary delights at 1 p.m. at Gasthof Krone.
 
Culture-Gourmet adults: 72 euro, (68 euro reduced)
Reservations must be made by phone:
Gasthof Krone, Tel. +49 07157. 40 88 49
www.krone-waldenbuch.de