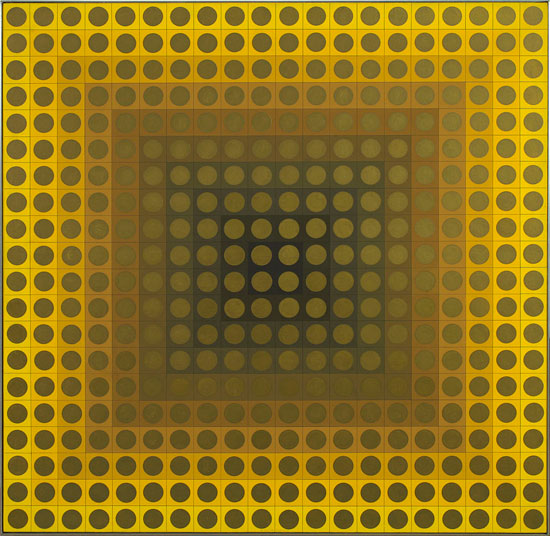 Victor Vasarely (1908–1997)
Taller, 1965
Leaf gold and oil tempera on wood
80 x 80 cm
©VG Bild-Kunst, Bonn 2015

Victor Vasarely is an important representative of Geometrical Abstractionism and is regarded as a fore-rider of Op Art, which is characterized by the phenomena of optical illusions. He became interested in the insights from Gestalt psychology, such as how the limits of our powers of visual perception can be divined and brought to awareness, and he also harnessed the mind's ability to complete hinted-at shapes for his work.
His painting "Taller" done in 1965 belongs to a series of works that are based on an underlying square lattice in which equal-sized circles have been spread across the canvas. The bright, yellow margin which impresses itself on the eye gradually gives way to ever darker shades of brown towards the middle, until it arrives at a black square at the very centre. The spatial illusion is disrupted by the golden circles, because depending on the light conditions and the viewer's vantage point, the glistening metal suggests either closeness or depth. The corners of the progressively darkening squares join together in our minds to present a central diagonal cross. But as soon as one focuses on the details, they disappear. This optical illusion is created by the concerted effects created by light and dark contrasts, colour perspective, and gold.


1908 born in Pécs/Hungary   
1997 died in Paris