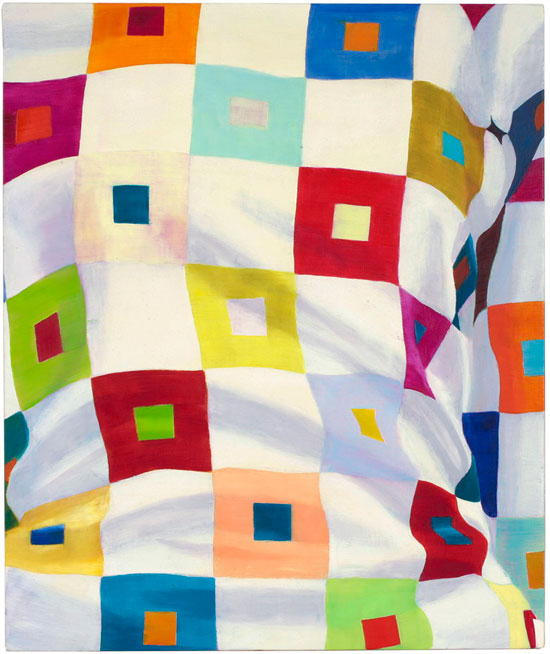 Jochen Twelker
Dead Men Don't Wear Plaid, 1996
Watercolour, 96 x 62,5 cm
© VG Bild-Kunst, Bonn 2020

Strictly speaking, the paintings of Jochen Twelker are not abstract works, even if they display structures or patterns that cover surfaces. The choice of represented detail, however, makes deciphering the image's object more difficult. Through irregularities in the patterns and the modulation through light, a physicality of high plasticity emerges from the image. Here is the key to the image code: Twelker paints human bodies, or, better said, the clothing that covers these bodies.
In the aquarelle Tote Tragen keine karos, (Dead Men Don't Wear Plaid), it is unusual perspectives and the structural similarities in background and the figures placed above them that estrange the representation. A person in a plaid suit lies on a carpet or fabric in the same pattern. Even the face is made unrecognizable through the grid structure, like a computer simulation to preserve anonymity. Only the deformation of the squares lets the body emerge from the network of forms, like Vasarély's design principle. 
The painting's titles, which are often borrowed from the famous classic films, complete the narrative moment of Twelker's painting, but they do not lead to any type of understanding. In this way, Twelker's works remain located in the tension between clarity of form and the mystery of content.


1957 born in Bielefeld  
lives and works in Berlin