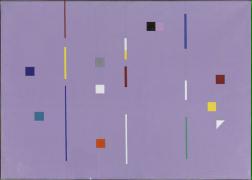 Friedrich Vordemberge-Gildewart
Composition No 188, 1952
Oil on canvas
50 x 70 cm

Friedrich Vordemberge-Gildewart is one of the few artists to have subscribed to a geometrical abstract approach right from the outset. After studying interior design, architecture and sculpture at the Kunstgewerbeschule and the Technische Hochschule in Hanover, he entered the scene in 1923/24 as an artist. From Hanover, at that time an important centre for progressive art, he came swiftly in contact with Russian Constructivism, the Bauhaus, and the Netherlandish De Stijl group, which he joined in 1925. In 1927 he was among the founder members of the local group «die abstrakten hannover». A few years later he became a member of the Parisian association Cercle et Carré (1930) and co-founder of the artists' group Abstraction-Création (1932).
By his own count, during his 40-year-long career as an artist Vordemberge-Gildewart produced only 222 paintings, which initially he termed constructions and later compositions. In addition to this came numerous drawings, collages, prints and watercolours, as well as a number of designs in the fields of architecture and typography. Vordemberge-Gildewart was more of an intuitive artist who neither shored up his Concrete painting with ideologies nor sided with a mathematically and scientifically founded belief in laws. Be that as it may, his works captivate with their great clarity and the harmonious balance of their parts.

1899 born in Osnabrück  
1962 died in Ulm