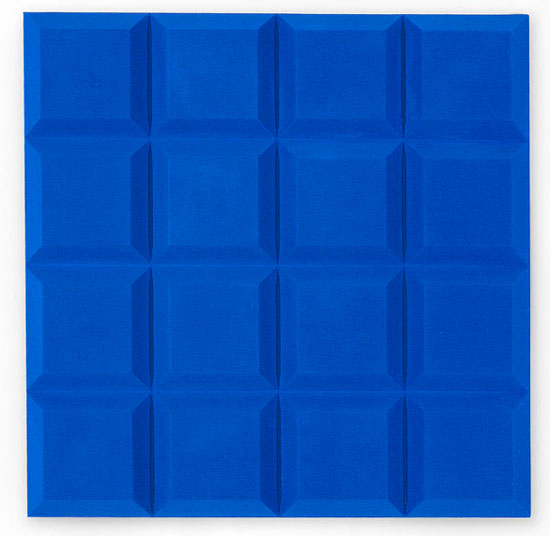 Hans Peter Reuter
Schokoladenblau 6/2/7, 2006
Ultramarin on wood and MDF
47 x 47 x 8 cm
© VG Bild-Kunst, Bonn 2020
Since the early 1970s Hans Peter Reuter has created illusionist picture spaces based almost exclusively on a square grid. Shaped by the perspective of the grid and by the light and shade, the spaces draw the viewer into the picture. And Reuter already committed himself to the colour blue early on because it further intensified the spatial effect in his two-dimensional images. The spaces are void of anything from the world of things and people, such that the viewer seems to be sole witness.
In the middle of the 1980s Reuter's work underwent an escalation that has left its mark to this day. He did this by restricting himself to one single colour: ultramarine. Ever since the artist has worked with finely nuanced shades of this powerfully charged colour – one could say he paints as if he were concerned with painting per se; but that would not do justice to the situation as a whole. Because over and beyond this he has performed a complete change in perspective inasmuch as his images no longer move into the picture space, but more towards the viewer. "The illusion builds up to the point of being an object-like presence", as Heinrich Klotz wrote in 1995. In this way the real substance which Hans Peter Reuter talks of becomes almost tangible. Together the two of them make their way from the surface of the image or the object in the direction of the beholder: in form, essence and chocolate blue.


1942 born in Schwenningen / Neckar  
lives and works in Lauf near Nuremberg