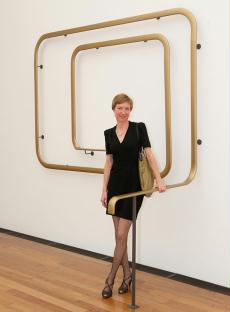 Vanessa Henn and her artwork
Steady as she goes, 2006
Steel handrail, covered in PVC
250 x 240 x 120 cm
For a number of years now Vanessa Henn has occupied herself with banisters. These steel handrails covered in PVC are things we encounter everywhere, whether in 1950s of 60s apartment houses, or in public institutions. Yet normaly we pay little attention to such everyday utility items. But removed from its normal functional context and placed in that of a museum, a handrail assumes a totally new quality, particularly since the artist regards the handrail as like a drawing in space."The steel or metal becomes something to draw with- as is normally a pencil or a ballpoint pen. These are plastic lines that are inscribed as abstract representations in space, and which may even have a narrative content", says Vanessa Henn. As in many of her pieces, here she relates something of herself, because "Steady she goes" is not merely a title that unites movement and constancy, it may also be used to characterize the artist herself, for she is forever on the go and striving onwards, but without wishing to renounce her stability and consistency.

1970 born in Stuttgart
lives and works in Berlin