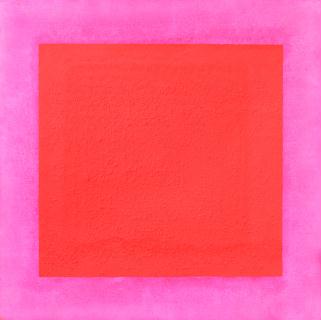 Rupprecht Geiger
Untitled, 1994
Acrylic on canvas on wood
125 x 125 cm
 
Rupprecht Geiger – a trained architect and autodidact artist born in 1908 in Munich – has created a number of paintings flooded with light which originate from his observations of celestial phenomena. During his war years in Russia he became aware of the true magnificence of the coloured skies in the morning and evening, and this had a lasting effect on his painting. Already in his first representational drawings of Russian landscapes in the 1940s he captured the tonalities of the sky and the effects of the light in black and white gradations. As an important founder of post-war German art, Geiger worked from 1948 on in the abstract vein, with colour becoming a major theme of his painting. Using unusual means, such as a spray gun and fluorescent paint, he achieved an intense radiant effect in his coloured surfaces.

His untitled piece from 1994 also amount to little less than a visual shock, because it rivets the eye to a sea of blazing reds. The direct juxtaposition of the almost yellowish red square at the centre and the fuchsia border, whose admixture of white competes with the brightness of the museum wall, produces a work of immense luminosity. The differences between these hues and the increasing brightness of the colours is registered by the beholder as light. In addition, the properties of the colours are also reflected in their physical make-up. The powerful reddish-orange acrylic at the centre rises up in part from the picture support, while the light, pale and transparent pink sinks into the canvas. Apart from these concrete impressions, the work also opens up spaces for meditation and in this way conveys a spiritual energy. Plunging visually into the colours may be followed by a contemplative mode of perception that leads to a spiritual experience. In this point, too, Geiger's work may be placed in the context of Mark Rothko's art. Rupprecht Geiger, who as early as 1948 abandoned the rectangular picture support in favour of even trapeziums and T-shaped formats, questions in this way the relation between image, space, wall and object. But form has always had an auxiliary function in his work: it is there to set off the colour. In his late works from the 1970s on, one colour has assumed an increasingly important role: red. Red stands for beauty, energy, love and life.
Rupprecht Geiger
1908 born in Munich 
2009 died in Munich