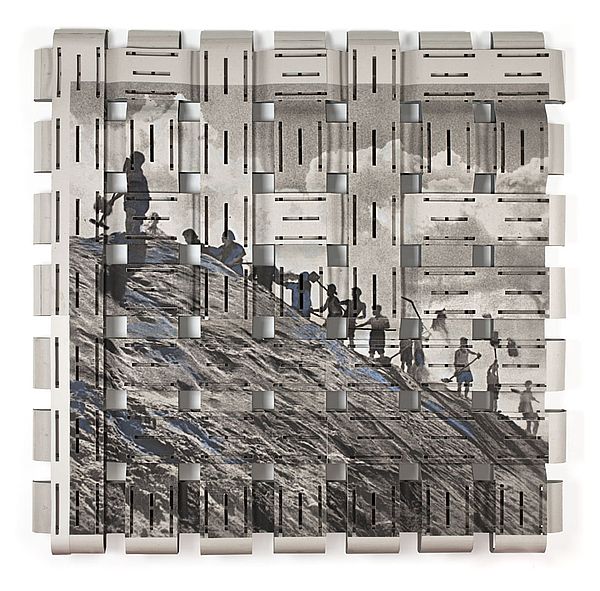 Thomas Bayrle
Sand Heavers (Characters for Epochs), 2005/2010
Silkscreen print on card, mesh on wooden grid
183 x 183 x 12 cm
© VG Bild-Kunst, Bonn 2021
Sandwerfer (Zeichen für Epoche) [Sand Casters (Character for Era)] is one of a series that Thomas Bayrle first created in 2005 after a several-month stay in China, and for which he recruited photos from Chinese propaganda leaflets published during the Mao era. The relief-like work, which assumes a three-dimensional space, consists of a square weave of strong card printed with one of the photographic motifs. It shows people on a mound, busy shovelling sand. Shot against the sky from a low, dramatic angle in black and white, the mound appears almost monumental while the people on it look tiny. Their individual physiognomies can be scarcely made out in the grainy depiction; they stand out against the sky like shades. Robbed of their individual features, they become indefinable parts of a mass, a collective whose interests – according to the rhetoric of communist propaganda – go before those of the individual. The phenomenon of the mass or crowd is a central theme in Thomas Bayrle's work. Inspired by Siegfried Kracauer's Weimar essays The Mass Ornament (1963, English 1989) and Elias Canetti's Crowds and Power (1960, English 1962), since the mid-sixties Bayrle has taken a long look at mass society and the de-individualisation of the person.
The photographic image he used was first cut into strips and then silk-screened onto lengths of card, before finally being woven together – much as in the making of textiles – to form a new visual structure. Weaves like this are often to be encountered in Bayrle's work: before he embarked on a career as an artist, he completed his training as a weaver. For him a weave is a metaphor for society, or, as he puts it: "The individual is the thread, the crowd the fabric." And just as society is marked by breaches and distortions, flaws have crept into the weave of Sandwerfer (Zeichen für Epoche),affecting the regular to and fro of its weft and warp. But at the back of the supposed errors in the weaving is a carefully thought out idea: the course described by the lengths of card traces out a Chinese character. This is the sign for "era", which simultaneously serves as a kind of subtitle for the piece. In this way the work becomes a metaphor for a specific part of Chinese history – the Mao era.
Thomas Bayrle
1937 born in Berlin
Lives and works in Frankfurt am Main