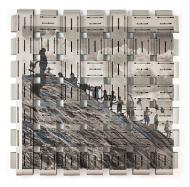 Thomas Bayrle
Sand Heavers (Characters for Epochs), 2005/2010
Silkscreen print on card, mesh on wooden grid
183 x 183 x 12 cm
© VG Bild-Kunst, Bonn 2020
Sandwerfer from 2010, a work that extends out through the third dimension into space, consists of a square cardboard mesh that depicts people on a mound who are busily shovelling sand. Photographed against the sky from a dramatically low angle in black and white, the mound appears quite enormous while the people by comparison are Lilliputian. The physiognomies of the individual persons can scarcely be recognised as a result of the coarse grainy depiction and the grid structure of the picture carrier. They stand out from the sky like wraiths. Robbed of their personal features, they appear to be parts of an otherwise undefined mass, a collective whose interests – according to the rhetoric of Communist propaganda – the individual must hold above his own. The phenomenon of the mass is a central topic in Thomas Bayrle's oeuvre. Beginning in the mid-sixties – a few years after the appearance of Siegfried Kracauer's The Mass Ornament and Elias Canetti's Crowds and Power - Bayrle turned his attention to mass society and the de-individualisation of the citizen. Sandwerfer is one a series of works that were first done in 2005 after a stay of several months in China, and for which Bayrle employed photographs taken from Chinese propaganda booklets made during the Mao era. By silk-screening on strips of card, the image was first fragmented and then, much as in the manufacture of fabrics, woven together to present a new pictorial structure. We frequently find woven structures of this kind in the artist's works. For Bayrle, who trained as a weaver before embarking on a career as an artist, the weave is an image for society, or, as he puts it: "The individual is the thread, the masses are the fabric." And just as society is full of breaks and dislocations, irregularities have crept into the woven structure of the Sandwerfer through the regular up and down of the warp and weft in the grid. But behind the ostensible flaws in the weave is a carefully calculated idea: the arrangement of the lengths of card is based in fact on Chinese characters. In the case of Sandwerfer it is the character for "epoch", which serves simultaneously as a kind of subtitle to the work. As such, the work is a metaphor for a concrete period in Chinese history – that of Maoism.
1937   born in Berlin 
lives and works in Frankfurt am Main