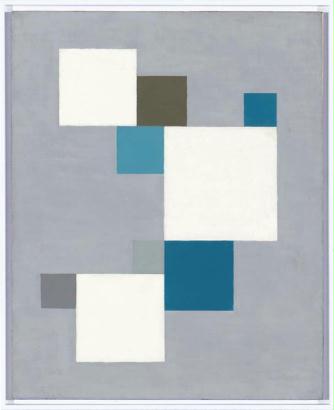 Carl Buchheister
Composition with a Blue Square, 1926/ca. 1933
Oil on plywood 65,5 x 52,5 cm
© VG Bild-Kunst, Bonn 2020

Carl Buchheister created his first constructive works in 1925. Similar to the revolutionary efforts of the Russian avant-garde, Buchheister and the members of the "abstract hannover" group followed socio-political goals in their art. A manifesto published in 1927 asserted: "Art's goal and reason to exist is the creation of new people who will comprise the new society. Therefore, art has a major task."
To take steps toward making his utopia a reality, Buchheister reproduced some of his paintings. He did not print, but rather repainted the painting in question. The composition shown here, Blue Square from 1933, is a repetition of a 1926 painting. Buchheister's goal was to reduce prices for his work through the creation of an edition — a maximum of six of the same image were created each time. His goal here was to allow people of lower means to purchase one of his constructive paintings.
His activities in geometric-constructive image design were interrupted by his defamation as a "degenerate" artist through National-Socialist cultural-political agendas.
 


1890   born in Hannover  
1964   died in Hannover