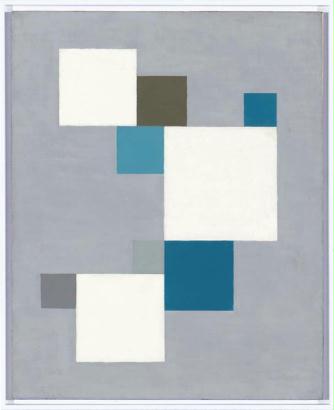 Carl Buchheister
Composition with a Blue Square, 1926/ca. 1933
Oil on plywood 65,5 x 52,5 cm
© VG Bild-Kunst, Bonn 2021
Carl Buchheister was one of the first Constructivists in Western Europe, beginning as he did in 1925 to paint in an abstract, geometrical style. The progressive art scene in his home-town of Hanover, at that time an important centre of modern art, undoubtedly encouraged the move to a clear, rationalist visual language. An important impetus for this came from the Kestnergesellschaft, an arts centre founded in Hanover in 1916. During the early 1920s it mounted highly programmatic exhibitions of the international avant-garde, including El Lissitzky, Wassily Kandinsky, Hans Arp and Theo van Doesburg, as well as of local artists Hans Nitzschke, Friedrich Vordemberge-Gildewart, and Kurt Schwitters, with whom Carl Buchheister became friends in 1921. Together with the latter artists, as well as Rudolf Jahns and Cesar Domela, Buchheister founded the artists' association die abstrakten hannover in 1927. Similar to the revolutionary aspirations of the Russian avant-garde, the group attributed a large socio-political role to art. Borne by the social utopias of the artists' association and the belief in a new, better society, Carl Buchheister developed the idea of Vervielfältigungsbilder [reproduced pictures]: faithful copies in strictly limited editions of his geometrical-constructivist compositions, which could be acquired by purchasers – as and when they did not insist on a unique original – at appreciably lower prices. This idea spelt a radical break with customary art practice, for it questioned the uniqueness of the work of art. Even if no more than six copies were ever made of one work, Carl Buchheister set out on the road to serial production and multiples many decades before the art edition came to be established.
Buchheister's Komposition blaues Quadrat, painted around 1933 in oil on plywood, is one of these Vervielfältigungsbilder. This vertical format painting is a faithful copy of an original done in 1926. As so often in Buchheister's geometrical works, the square is the defining element in the composition. Set against a grey background, it links a series of different-sized squares to form a rhythmic sequence. Stability is lent to the overall picture by several parallel constructions. Despite what is in fact a fairly restrained palette, the artist skilfully manages to combine different shades of blue and grey with white to produce a gentle, pulsating impression with almost spatial qualities.
Carl Buchheister
1890 born in Hanover  
1964 died in Hanover