Christian Megert. Without beginning or end

18 October 2015 to 17 April 2016


Swiss artist Christian Megert is not simply renowned for his mirror objects, he is also one of the most important representatives of a light art that lives from its interactions with its surroundings. Already in 1961 in his manifesto "A New Space" he formulated his artistic goal as making a "space with no beginning or end", which even now has lost none of its topicality.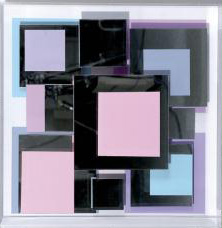 In the 1960s he was a member and promoter of the European ZERO movement. During this period he also created environments, including his famous mirror room for documenta 4. From the mid-sixties onward he combined mirrors with neon tubes and motors to make lumino-kinetic object boxes that produce an illusionist sense of space. To this day the mirror has remained Christian Megert's chief material in his artworks. Using at times mirror surfaces and fragments painted with colours, he constantly produces new compositions that open a large number of perceptual levels. Christian Megert taught from 1976 to 2002 at the Kunstakademie Düsseldorf. He now lives and works both there as well as in Berne.
The exhibition gives an overview of Christian Megert's artistic production from the 1950s to the present. With this show, Museum Ritter pays tribute to an important artist in the collection on the occasion of his 80th birthday.