Travelling the Cosmos
9 October 2011 to 15 April 2012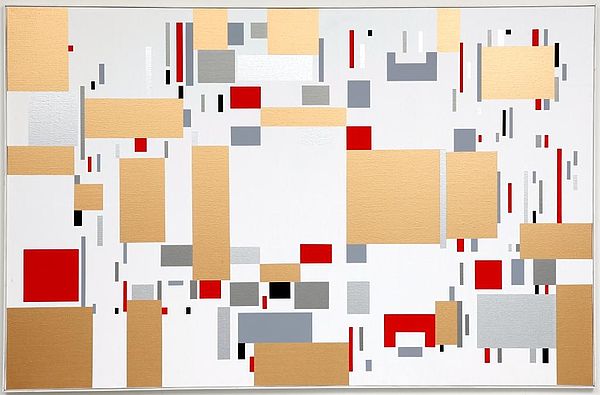 Curators:
Dr. Barbara Willert and Hsiaosung Kok
The Swiss painter Rita Ernst has steadily pursued her artistic career for some 30 years now within the field of constructivist art. In her various cycles of works she has sounded out all manner of variations in abstract–geometric design and each time come up with her own specific cosmos of colours and forms. While always remaining close to the concrete tradition from her elective home of Zurich and taking it as her point of departure, from the very outset she has allowed herself the liberty of finding her own means of composition.
There where she lives and works, in Zurich and in Trapani on Sicily, as well as the places she travels to, provides Rita Ernst with the inspiration for her works. With her passion for looking, she tracks down easily overlooked patterns and structures in the everyday world around her: the waves on the sea interest her every bit as much as the designs in old Sicilian floor tiles or the geometry in Oriental ornaments. In her earlier series of works, Rita Ernst used a predefined fund of shapes which she often systematically elaborated according to her own rules inside a square grid, thus producing new and surprising constellations of shapes and colours.
Since the end of the 1990s Rita Ernst has used ground plans as the basis for her paintings, finding her inspiration not only in the Sicilian architectural tradition – in the island's imposing, Arabo-Norman cathedrals or the "gardens of paradise" around its old palaces – but also in the modernist buildings designed by Ludwig Mies van der Rohe. The ground plans she selects from these striking buildings are defamiliarised and transmuted by artistic strategies of addition, transposition and superimposition to produce new geometrical contexts that engender completely new compositions in their own right.
While Rita Ernst mostly proceeds in a methodical way for this process of abstraction, the unmistakable splendour of the colours she uses is more indebted to her associations. She likes to use gold and silver to indicate the sacred element in her Interpretations of Sicilian cathedrals, while in other series the radiance of the south is rendered by dazzling blues or by the radical way she over-paints powerfully chromatic colour fields with white paint. And she pays homage to the timeless elegance of modernism with somewhat muted colour schemes based on black, white, grey and copper.
This wide-ranging exhibition of works at Museum Ritter gives a clear overview of important phases in the artist's creative output and exemplifies the developments in her art from the 1980s to this day.
Pictures from upper left to right:
Piazza Armerina, Duomo, 2000 © Artist
Many thanks to: