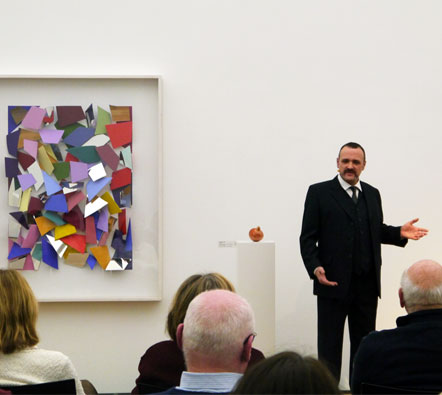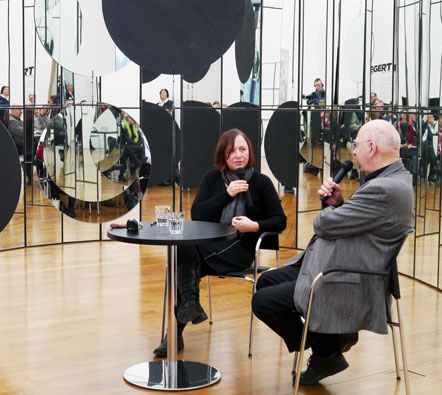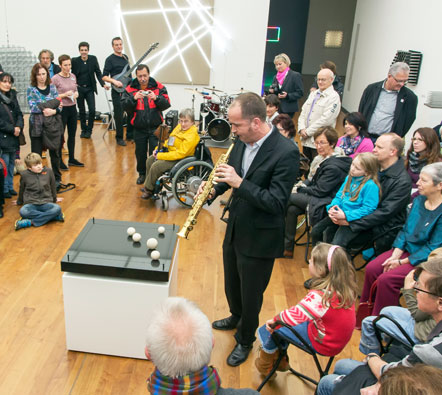 Art and Music
"The Jazzmates" Horst Götz, Lukas Pfeil and Harald Wester together with art historian Christine Klenk have devised a tour of the exhibition with specially composed music for double bass, saxophone and drums.
Sunday, 12 March, 3:30 p.m.


Crime theatre "A Wedding to Die For"
Scene of the murder is a wedding attended by illustrious guests. Take up the investigations side by side with Chief Inspector Zornbrecher! Actor-director Frank Seeger together with Diana Michl and Michaela Morlock present their thrilling, self-penned play that draws in both art and the local setting.
Saturday, 25 March, 6:30 p.m.
Ticket: € 15 (incl. admission to the Museum)


Guided tour with Dr Barbara Willert, curator and museum director
Sunday, 2 April, 3:30 p.m.


Artist's talk with Beat Zoderer
Monday, 1 May, 3:30 p.m.



Cultur Gourmet
Combine your visit to Museum Ritter with exquisite culinary delights at the historical Gasthof Krone at the foot of the Schlossberg, close to the Museum. The cultural prelude consists of a one-hour tour of the current exhibition at Museum Ritter, in which you will be presented with the leading works on display. And afterwards your hosts Erik Metzger and Matthias Gugeler will welcome you inside their cosy restaurant or to the romantic summer terrace at Gasthof Krone, where they will treat you with special delicacies from their kitchen.


Available dates in 2017:
2/26, 3/26, 4/30, 6/18, 7/30, 8/13, 9/17, 10/29, 11/26, 12/17

The exhibition tour begins at 11.30 a.m. in the foyer at Museum Ritter. The culinary delights at 1 p.m. at Gasthof Krone.

Culture-Gourmet adults: 72 euro, (68 euro reduced)
Reservations must be made by phone:
Gasthof Krone, Tel. +49 07157. 40 88 49
www.krone-waldenbuch.de