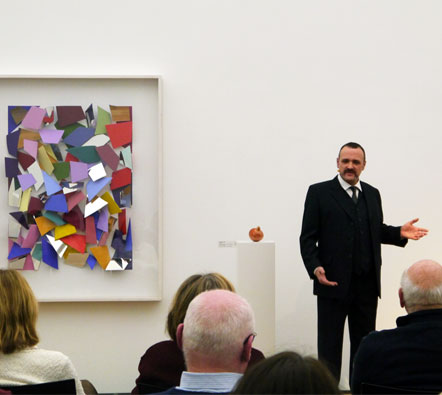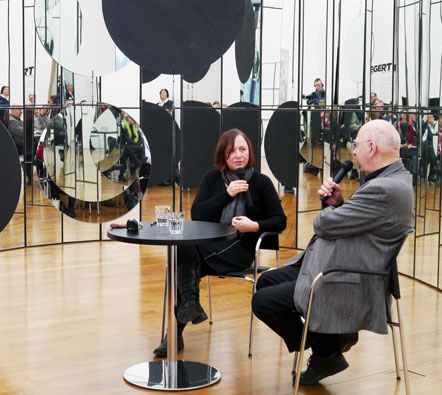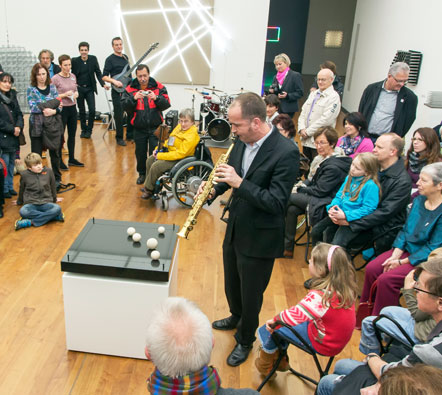 Art and Music
"The Jazzmates" Horst Götz, Lukas Pfeil and Harald Wester together with art historian Christine Klenk have devised a tour of the exhibition with specially composed music for double bass, saxophone and drums.
Sunday, 16 July and 10 September, 3:30 p.m.


Artist's talk with Platino
The recipient of the Hans Thoma Prize 2017 talks about his work in the exhibition and the intertwining of art space, studio space, and everyday space in his creative production.
Sunday, 9 July, 3:30 p.m.


Guided tour with Marli Hoppe-Ritter and curator Hsiaosung Kok
Sunday, 3 September, 3:30 p.m.


Guided tour "Art and Science"
This interdisciplinary tour examines select works in the exhibition from the perspectives of art history and the natural sciences. With Dr. Marc Scheffler, physicist and Jutta Fischer, art historian.
Saturday, 10 June and 30 July, 3:30 p.m.


Open Air Cinema in the Museum Passage
Museum Ritter together with Kino vor Ort will be presenting their much-loved Summer Night's Cinema on two evenings in the Museum Passage. Included in this offer is a visit beforehand to the exhibition
from 7 p.m.
Saturday, 19 August and 2 September
Ticket: € 10 (incl. admission to the Museum, only available at the evening box office)
The screening starts at 9 p.m.


Cultur Gourmet
Combine your visit to Museum Ritter with exquisite culinary delights at the historical Gasthof Krone at the foot of the Schlossberg, close to the Museum. The cultural prelude consists of a one-hour tour of the current exhibition at Museum Ritter, in which you will be presented with the leading works on display. And afterwards your hosts Erik Metzger and Matthias Gugeler will welcome you inside their cosy restaurant or to the romantic summer terrace at Gasthof Krone, where they will treat you with special delicacies from their kitchen.


Available dates in 2017:
4/30, 6/18, 7/30, 8/13, 9/17, 10/29, 11/26, 12/17

The exhibition tour begins at 11.30 a.m. in the foyer at Museum Ritter. The culinary delights at 1 p.m. at Gasthof Krone.

Culture-Gourmet adults: 72 euro, (68 euro reduced)
Reservations must be made by phone:
Gasthof Krone, Tel. +49 07157. 40 88 49
www.krone-waldenbuch.de